Shairons offers salon-quality products that are healthy and affordable.
Hair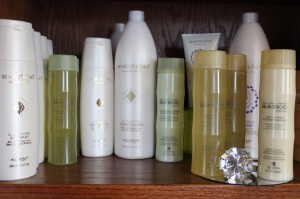 We carry an extensive range of carefully-chosen hair care products. Ask your technician to help you find a line that works best for your hair type and texture.
Private Label Cosmetics
Our private label line offers the quality of a fine department store brand at a more affordable price.  Products are safely manufactured in FDA – approved facilities using revolutionary formulas and the latest ingredients.
Create a new attitude with a fresh color. Redefine your look with makeup and present the world with a new, polished version of yourself. Feel free to browse our color, brushes and accessories while testing our skin care product line in our boutique.
For Children
Fairy Tales is the leading line of professional hair care for children – providing affordable, high quality natural products. The product line contains no harmful chemicals or toxins. Ingredients are also dairy, gluten and nut free to ease any allergy concerns.
Fairy Tales also offers specialty formulas to remove chlorine or eliminate and help prevent head lice.