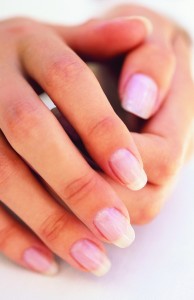 Relax and enjoy a luxurious manicure or pedicure in our private nail room. Our European Touch pedicure spa offers you a safe and sanitary experience.
We recommend OPI nail polish because it's designed to give you the longest lasting wear.  OPI offers an extensive color selection that's updated often.  And ask about special packages for gifting.
Also ask about our vinegar soaks which can help deter bacteria growth, soften cuticles and sanitize and bleach the nails.
Tip:  Avoid nail charms.  They deteriorate the nail bed and increase risk of infection.
Be sure to follow the regular maintenance recommended by your nail technician for your type of nail and enjoy. They will be stunning!
Request your manicure and/or pedicure appointment with Molly.