Our salon offers cutting, styling and color services.  Our technicians would be happy to schedule an appointment for a consultation if you'd like get to know us and talk about your options before committing to a service.
Cut
A good haircut should complement your facial features.  It also needs to work with your type of hair (its texture and condition).  Our consultations include an overview of your hair, your style goals and preferences and your lifestyle.
We encourage you to bring pictures so that we can see what you like.  And we'll log your history to help us assure that you are always satisfied with the service(s) you receive. And our trained professionals work as a team.  If your busy schedule doesn't allow you to be dedicated to one stylist, other technicians can easily access your history to be sure to meet your needs.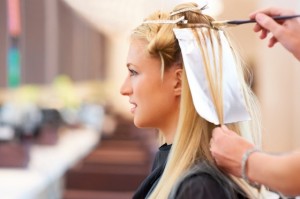 Did you know these factors can affect your hair?
Allergies
Diet
Hormones
Medications
Prolonged illness
Color
Permanent, semi-permanent, highlights, lowlights — there are lots of choices when it comes to hair color.
Your hair color should complement your skin tone and personal style.  Our experienced technicians use techniques and products that will give you rich, vibrant color and leave your hair in good, healthy condition.  We'll also give you tips to help you keep your color looking its best.
Among our color lines is AlfaParf, one of Europe's finest hair color lines.  AlfaParf leaves hair extremely well-conditioned and touchable. The line offers an endless choice of shades and reflections and is formulated to leave your hair with a healthy, never-ending shine.
Maraes is a special addition to our hair color lines for those with a sensitivity to traditional color formulations. Maraes safe and state-of-the-art formulations are free from ammonia, PPD, sulfate, paraben, gluten, preservatives and salt. Yet we are able to achieve amazing grey coverage and shine plus vibrant color that leaves hair well-nourished, strong and healthy. And with a range of 54 shades — your color options are wide-open.
Perms
Today's perms offer a more modern, natural wave. Non-Thio perms utilize technology to curl hair with less damage and odor than other perms. This product is excellent on fragile/fine textures as well as hair that has lost its curl and just needs a little boost.
Schedule your color or perm with Sharon, Denise or Molly.