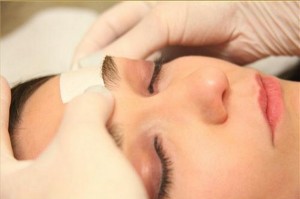 Our salon offers eyebrow and bikini waxing.
Waxing is a semi-permanent way to remove hair from the root. For best results, there must generally be 2 weeks of hair growth on the target area.
Our salon practices safe and sanitary waxing procedures. While we use wax for sensitive skin, it's common to experience minor irritation or itching after waxing.  Removing coarser hair could also leave bumps or redness.
Keep this in mind before a waxing treatment:
In summer months, be sure there is no sunburn to area and do not sunbathe (outdoors or in a tanning bed/booth) for at least a day after the service.
Don't use alpha hydroxy or skin peels before waxing.
After your waxing treatment:
Use oil to remove any excess wax product.
Don't use alpha hydroxy or skin peels immediately after waxing.
Watch for ingrown hairs at the bikini line.  Exfoliate with loofa or body brushes to prevent pores from clogging.
Use over-the-counter first aid creams to keep the wax site bacteria free if it becomes irritated.
If itching or swelling becomes problematic, apply ice, witch hazel or a cold teabag compress to help soothe the area.
Request your hair removal appointment with Sharon, Denise or Molly.
Shairons can also make an electrolysis referral if you're looking for permanent results.